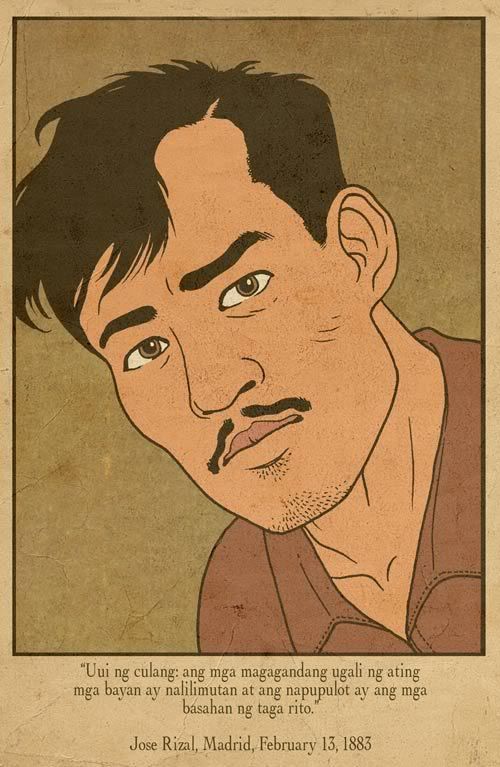 Art by Gerry Alanguilan
Dr. Jose P. Rizal was born on June 19, 1861.
Nothing extraordinary accompanied his birth. It was his upbringing and the ideals inculcated in him by his parents, his experiences and the events he witnessed in his country and abroad, and the goals he set to pursue in his life that set him apart from all the Filipinos who were born before and after him.
Don Francisco Mercado and Doña Teodora Alonzo were humble parents. They taught Dr. Rizal to love his fellowmen, his country, and God Almighty. Dr. Rizal did not only learn these ideals; he fulfilled them.
The Cavite Mutiny of 1872 changed the course of his life. "Without 1872," Dr. Rizal wrote later, "there would not be now either a Plaridel, or Jaena, or Sanciangco. Without 1872, Rizal would be a Jesuit now and, instead of writing Noli Me Tangere, would have written the opposite." On the way home after witnessing the execution of Fathers Gomez, Burgos, and Zamora, he and his elder brother Paciano made a pact. Rizal would dedicate his life to free their land of birth while Paciano would take care of Rizal's studies and their family.
His studies in Spain enabled him to learn Spain's liberal traditions. "My perdition began in Spain," Dr. Rizal said, acknowledging his indebtedness to Spain's liberal traditions and how they influenced him and his generation to struggle to free their country from foreign rule.
His works, especially the Noli Me Tangere and El Filibusterismo, sealed his date with Bagumbayan Field. By exposing the numerous ills of colonial society and the sufferings of his countrymen, Dr. Rizal earned the enmity of many colonial officials, especially the friars. "No rule by one country over another lasts forever," he warned. His works planted the seeds of freedom in the hearts of his countrymen. To his countrymen, he counseled that they would remain slaves forever if they would do nothing about their oppressed condition.
His La Liga Filipina suggested to the colonial government the means to avoid the bloody separation of the Philippines from Spain. The colonial authorities disregarded Dr. Rizal's advice. Instead, they executed him and many other Filipino patriots. This was a monumental error on their part for they only transformed Dr. Rizal and the Filipino martyrs into symbols of defiance against continued colonial rule.
Our observance of Dr. Jose P. Rizal's birth anniversary demonstrates not only our respect and admiration for him but also our awareness of the lessons he bequeathed to us, especially the lesson that a people who honor and remember their heroes are a people who would never consent to be enslaved by others. Dr. Jose P. Rizal is truly our national hero and the Filipino people are fortunate to have given birth to this Pride and Hero of the Malay Race.
– via Manila Bulletin